With us there is always something going on
Winter hiking trail on the mountain
Comfortable hiking, easy and barrier-free from mountain station to mountain station. With a wonderful panorama and snowy winter landscape.
Prepared hiking trail also suitable for snowshoe hikers or partents with small children on the sled.
General information: approx 3 km long, max. slope or gradient of 6%.
Freeriding at the Großeck-Speiereck
The leisure mountains Grosseck-Speiereck offer a wide range of offroad skiing opportunities. Choose your own descent in the open terrain, in deep snow or in various variant descents.
Safety First!
Be sure to pay attention to the information provided by the Lawinenwarndienstes Salzburg, check your freeride equipment and check the functionality of your LVS device before driving on open and unsecured terrain.
Never drive alone or without an avalanche device into unsecured terrain.

The current avalanche warning levels and hazards for your chosen freeride area can be found at
Lawinenwarnzentrale Salzburg
In freeriding, you ride unprepared terrain on your own responsibility. The slopes selected by you away from secured ski slopes are considered to be free and unsecured terrain!
Fun on the mountain
More great highlights at Grosseck-Speiereck.
Witches Forest
The adventure begins at Witches Forest at ,,Stockerboden'' T-bar. Over hills and through bowls, the reaction and balance is put to a test.
FunzONE
The Funzone is ideal for trying and testing the freestyle arts of all athletes. Over kickers you can playfully take a jump through the air, on the boxes the sliding feeling is tested and the wave track trains the loading and relieving in terrain.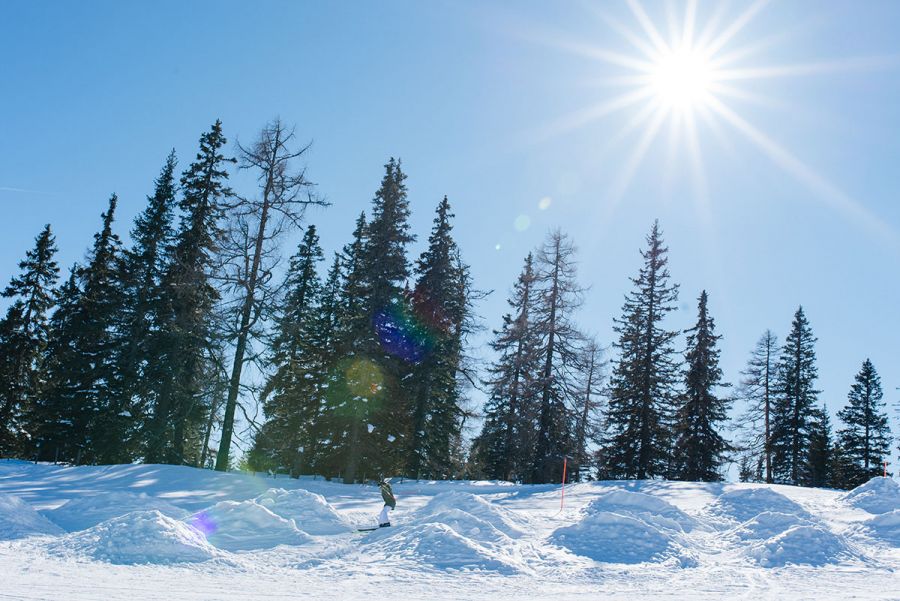 Lunar Landscape
The lunar landscape offers a small insight into the world of mogul skiing.
Velocity measuring distance
On a closed part of the runway, the speed measuring track gives everyone a feeling of actual speed on the snow.
Giant Slalom
The giant slalom with time measurement invites all enthusiasts to practice or race.
Wave track
On the wave track we go up and down gentle hills. Fun guaranteed!
High-Five-Hand
The High-Five Hand is all about the interactive experience.
Combines fun, action and adventure into a unique experience on skis.
Xylophone
The xylophone offers a completely new skiing experience for young and old, beginners an hobby skiers.
iSkiTracker
Smart, smarter, smartest: The iSki Tracker is the highlight for all sporty, ambitious winter sports enthusiasts. With the free app you can record, analyze, share with others or compare yourself with your competitors. The app is compatible with Apple, Android and Blackberry.
Record - analyze - compare - Download and start free!